High Ambitions: Concrete, Steel, Glass & Egos
Take a closer look at the buildings that define Seattle's skyline from the Post-Modernism of the 1980s to 21st-Century Contemporary, learn about changing styles as well as emerging trends such as green architecture, the adaptive re-use of historic buildings, and the increase in high-rise condominiums downtown. Featured buildings include: U.S. Federal Courthouse, Westin Hotel, Olive 8, Seattle Sheraton Hotel, One & Two Union Square, U.S. Bank Center, IBM Plaza, Rainier Square, Safeco Plaza, Union Bank of CA and Fifth and Madison condos, and the Bank of America Tower.
This tour starts outside of Smith Tower 506 2nd Ave Seattle, WA 98104.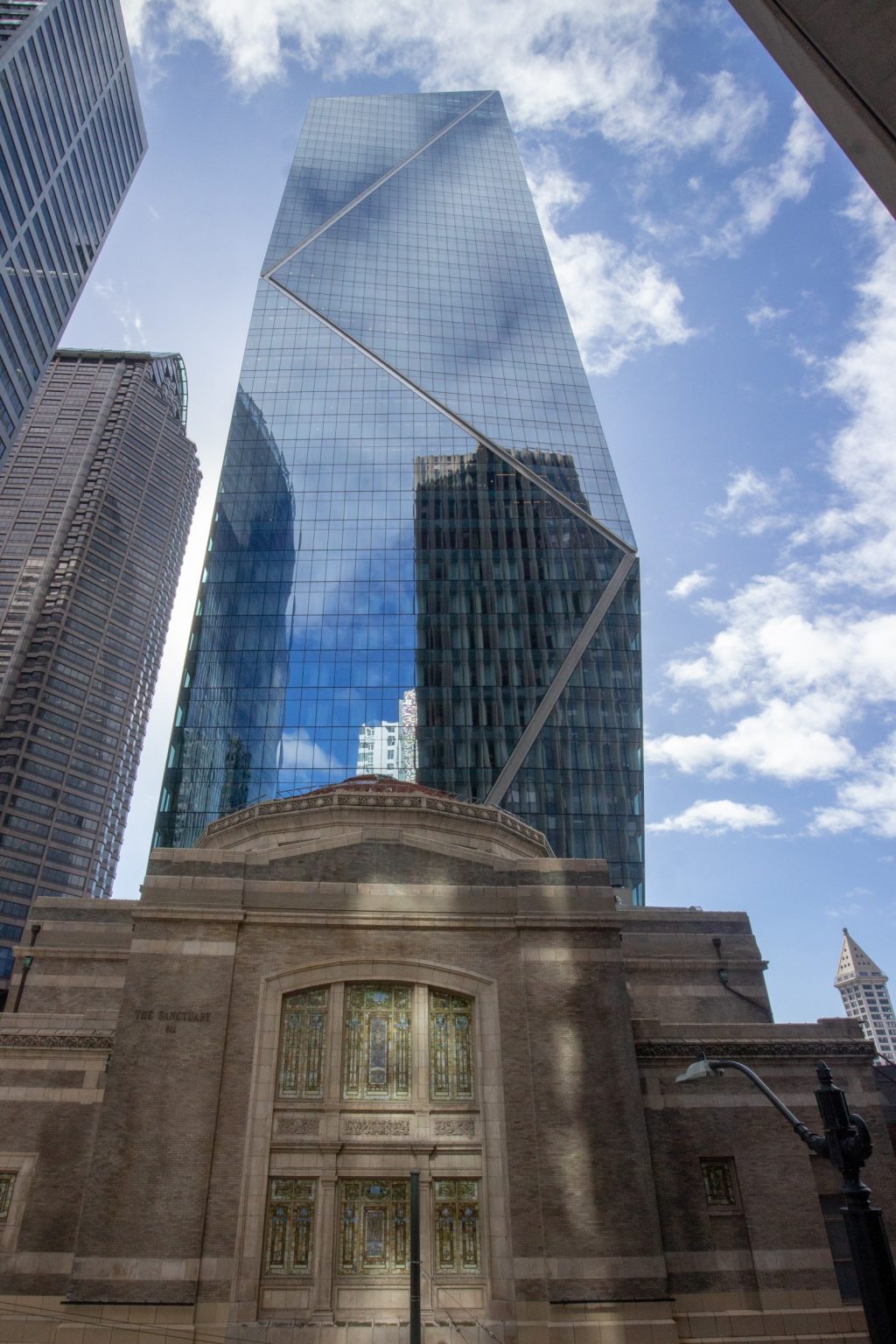 Our Downtown tours begin in various locations.
Please review your confirmation email to ensure that you have the right address.
Tours are approximately two hours in length, unless otherwise noted. Advance registration is strongly encouraged; walk-ups are limited to space available. Private tours are also available: email info@seattlearchitecture.org for more information. Tours are $25 in advance/$20 for members/$22 for students and seniors over 65/Free for children under 5. Ticket sales close at 9:00pm the evening before the tour. Walk up guests will be charged $30 via credit card payment at the start of the tour. Online registration is handled through Bold Type Tickets. For more information see our Tours FAQ page.
Please note: For tours happening in Winter 2023-2024, a minimum of three people must be registered for tours to take place. Tours with fewer than three registered attendees on the Thursday before the tour will be cancelled. If you purchased a ticket for a cancelled tour, you have the option of transferring the ticket to a future tour date or being issued a refund.