DOWNTOWN TOURS
Please note that due to COVID-19 many of our tour dates have been cancelled or postponed with remaining dates subject to sudden cancellation. In the event of a cancellation, all registered guests will be notified in advance by email and offered a refund or opportunity to re-book. If you do not plan to attend an event you are registered for, please cancel your reservation & request a refund through Boldtype, our ticketing vendor or email us at info@seattlearchitecture.org. 
Our Downtown tours begin in
various locations
. Please review your confirmation email to ensure that you have the right address. Most downtown tours are approximately two hours in length
,
unless otherwise noted below. Advance registration is strongly encouraged; walk-ups are limited to space available. Private tours are also available, email
info@seattlearchitecture.org
for more information. Tours are $18 in advance/$12 for members/$25 cash, day of event. Online registration is handled through
Bold Type Tickets
. For more information see our
Tours FAQ page
.
Thank you to our tours underwriter:

Friends & Family Tours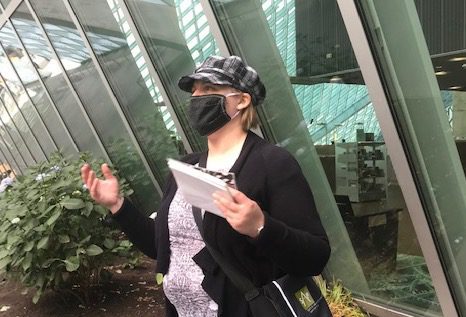 In the next couple months we're offering a limited number of ​heavily-discounted, mini-tours on pre-selected dates. Friends & Family tours must be booked and paid for by one individual, and a maximum of 5 masked & healthy individuals are permitted to attend. Our guides will also wear masks and use personal microphones to avoid crowding. All tours must be booked/confirmed within 2 weeks of the tour date.
See calendar for available tours
We are also currently accepting reservations for a limited number private tours for groups of 5 or less, the date, time, and tour are up to you, based ​on tour guide availability. These tours must be booked & paid for by one individual. Please schedule 2-4 weeks in advance to ensure availability and note we may not be able to accommodate all requests.
Request Tour
Diamonds & Gold: The Art Deco Skyscraper Northwest Style
Take a trip back in time to the Roaring 20s. Following the horrors of World War I, architects began fusing modern structural advances with beautiful, lively, organic designs to create the style known as Art Deco. On this tour, we'll go back in time to visit lush lobbies and ornate commercial buildings to learn how technology, archeology and French design influences some of Seattle's most impressive buildings. You'll discover diamonds and gold. And you'll see how Northwest imagery was incorporated into the Deco elegance and innovation of these architectural gems. Featured stops Exchange Building, the Seattle Tower and Washington Athletic Club.
This tour will leave from inside the Fairmont Olympic Hotel Lobby at 411 University St, Seattle, WA 98101
BUY TICKETS
(New Tour!) Coming Soon!| From Stone to Steel: Seattle Style from Then 'til Now
Can a city be a fashionista? As with clothing, architecture has its hot trends and enduring styles. Beginning with Seattle's rebirth after the great fire of 1889, the city's new buildings have been up-to-the-minute examples of the latest designs of the times – from chunky, monumental Romanesque to stark, unadorned Brutalism, to environmentally conscious, sleek glass and steel towers showcasing computer-aided, high-tech design. Walk the design runway in this decade-by-decade tour of what's been new and exciting in downtown Seattle's built environment from 1889 through today.

Stay tuned this tour is coming soon.


Greatest Hits: Chart Toppers and Heart-Stoppers
It's a new riff on the city as we focus on the construction, context, and culture which shaped our skyline, from golden oldies like Kirtland Cutter's Rainier Club to popular favorites like the Rem Koolhaas' asymmetric, cantilevered Central Library. You'll develop an appreciation for the social forces which shaped Seattle and our built environment. Featured stops include the Fifth & Madison Condominium/901 Fifth Avenue Plaza and Seattle City Hall.
This tour will leave from inside the Fairmont Olympic Hotel Lobby at 411 University St, Seattle, WA 98101
BUY TICKETS
Design Details: Lions, Griffins & Walruses, Oh My!
Engineering makes a building stand up, but intricate adornments and elaborate embellishments makes one stand out. Take a walk through Seattle's design history by taking a close look at the details that give a building its personality. Develop an appreciation for and understanding of materials from types of stone, terra cotta, bricks, and metals, and how an architect's decisions add to the overall character of the structure. Featured stops include the Arctic Club, Cobb Building and Smith Tower.
This tour will leave from inside the Fairmont Olympic Hotel Lobby at 411 University St, Seattle, WA 98101
BUY TICKETS
Art + Architecture: Let the Streets be Your Museum!
Experience the best of public and privately funded art. From hatch covers to fountains to sculpture, Seattle's collection is a diverse civic resource that makes art an integral part of our daily lives. This tour will educate you about development and implementation of public art programs and their integration into architecture, interior and landscape design. Featured stops include Freeway Park and the Washington State Convention and Trade Center.
This tour will leave from inside the Fairmont Olympic Hotel Lobby at 411 University St, Seattle, WA 98101
BUY TICKETS
Hidden Spaces/Public Places: Private Property + Public Amenity = Additional Development Rights
Explore some of downtown's hidden treasures, like public parks, plazas and open spaces. Many of these spaces are owned by private developers but are in fact places where you can enjoy beautiful landscapes and private art collections away from the hustle and bustle of city streets.
This tour starts at City Centre (NW corner of lobby at 5th Ave and Pike St) 1420 5th Ave Seattle, WA 98101.The tour group will meet in the northwest area of the building's lobby.

Hidden Spaces/Public Places also features a number of stairs and concludes at the Harbor Steps. Please let your guide know if you, or another member of your party, have any restrictions.
BUY TICKETS
High Ambitions: Concrete, Steel, Glass & Egos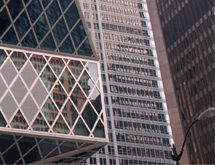 Take a closer look at the buildings that define Seattle's skyline from the Post-Modernism of the 1980s to 21st-Century Contemporary, learn about changing styles as well as emerging trends such as green architecture, the adaptive re-use of historic buildings, and the increase in high-rise condominiums downtown. Featured buildings include: U.S. Federal Courthouse, Westin Hotel, Olive 8, Seattle Sheraton Hotel, One & Two Union Square, U.S. Bank Center, IBM Plaza, Rainier Square, Safeco Plaza, Union Bank of CA and Fifth and Madison condos, and the Bank of America Tower.
This tour starts at Smith Tower 506 2nd Ave Seattle, WA 98104.
BUY TICKETS
Thank you to the Seattle Office of Arts and Culture for sponsoring out tour Season