DESIGN SOIREE
Design Soirée is a series of exclusive design-oriented events in some of Seattle's most interesting homes, design studios and a range of exciting and sometimes inaccessible spaces. These events are intended to cultivate a greater understanding and appreciation of how design enriches our lives. Each event includes food, drinks and activities curated by each host — architects, engineers, contractors, artists and more.
While enjoying yourself among colleagues, friends and new acquaintances, feel good knowing you are helping Seattle Architecture Foundation connect thousands of people of all ages and backgrounds to the architecture, design and history of Seattle. All funds raised through Design Soirée support the various programs offered by SAF, including exhibits, tours, talks and programs that teach youth how design addresses social issues. SAF reaches more than 6,000 people a year through its programs, events and outreach activities.
Intrested in hosting a Design Soiree in 2019?
Check out our 2019 FAQ for potential hosts
Past Events
Bitter and Sweet meets BONFIRE
May 2, 5:30 – 8:00 PM
Hosted by Bill Gaylord, BONFIRE Gallery & Jan Johnson, Panama Hotel
At the Panama Hotel
605 S Main St
Seattle, WA 98104

Meet at the corner of Bitter and Sweet for a journey through time. Jan Johnson, rescuer, and owner of the National Landmarked and Treasured Panama Hotel, will guide us through layers of the hotel's history, stories and spaces including the hidden bathhouse. The adventure continues with nibbles and drinks at Bill Gaylord's BONFIRE Gallery and a private viewing of Dave Calver's illustrations from the highly acclaimed graphic novel, Limbo Lounge.

The Historic Panama Hotel built in 1910 by Sabro Ozasa, a Japanese Architect and graduate of the University of Washington. Through the years it has served as a home for generations of Japanese immigrants, Alaskan fisherman and International travelers. The building houses the only remaining Japanese Bathhouse (Sento) left in tact in the United States.

This event is currently sold out.
Sips in SoDo: An Evening of Design with the Graypants Team
June 22, 6:00 – 8:00 PM
Hosted by Graypants with Westland Distillery
At the Graypants Seattle Studio
3220 1st Ave S., Suite 400
Seattle, WA 98134

Please join us for an evening with the Graypants team in their stunning design studio in Seattle's Sodo neighborhood! Best known for their flagship line 'Scraplights' made from recycled cardboard, Graypants is a team of creative problem solvers. Anchored in Seattle and Amsterdam, their bold creativity leads to diverse designs in products, architecture, and other beautiful objects around the world.
Get an intimate snapshot behind the brand from owners and founders, Seth and Jon, in a talkback session. Enjoy a beautiful spread of hors d'oeuvres, local whiskey from Westland Distillery, and cocktails featuring our mesmerizing Graypants Ice Press in a causal atmosphere packed with examples of our work.
Through this event with us we hope to imbue you with our motto: "Dream big. Scribble often. Make thoughtfully."
Seattle Asian Art Museum Hard Hat Tour
June 26, 5:00 – 7:00 PM
Hosted by LMN Architects & BNBuilders
At the Seattle Asian Art Museum
1400 E Prospect St
Seattle, WA 98112

The Seattle Asian Art Museum, a city-owned building on the National Register of Historic Places is currently being renovated by BNBuilders and LMN Architects.
After years of careful planning and research this art deco gem will receive seismic and facilities upgrades, expanded gallery space and significant restoration of the historic façade and Fuller Garden Court. The museum is not scheduled to reopen until 2019 but you can join our hard hat tour for a rare, behind-the-scenes look at the renovation and expansion progress taking place today.
Our tour of the building and surrounding grounds will focus on the progress so far, overall vision and challenges and rewards associated with this kind of project. After our tour we will gather for some appetizers.
Required clothes:
sturdy closed toe shoes, pants, sleeves, hard hat, safety glasses (Glasses and Hard Hats will be provided or you may bring your own)
Access:
at the BNB construction gate near the main entrance in front of the museum.
Town Hall Hard Hat Tour
June 27, 3:30 – 5:30 PM
Hosted by RAFN Company
At Town Hall
1119 8th Ave
Seattle, WA 98101

Town Hall, a historic landmark building and one of Seattle's most beloved community culture centers, is undergoing a massive renovation with the help of BuildingWork Architect Matt Aalfs and RAFN Company general contractors.
Originally built in 1916 as the The Fourth Church of Christ, Scientist in the Classical Revival style Town Hall now hosts hundreds of public events annually.
Join SAF and our hosts from RAFN for a rare chance to see the inside of Town Hall before it's unveiling and talk to experts like RAFN project manager Todd Morran and architect Kate Weiland from BuildingWork about the delicate renovation process. How do you care for terra cotta, molding, stained-glass and other historic elements while adding modern updates like seismic stabilization, mobility improvements and climate control?
This event will start with a tour of Town Hall followed by catered appetizers and beverages.
*Limited Capacity
*This is an active construction site and attendees will need to wear long pants and sturdy shoes or boots. RAFN will provide hard hats, safety glasses, and vests.
Photo courtesy of Town Hall Seattle
Community Building Tour With Schemata Workshop
June 30, 6:00 – 8:00 PM
Hosted by Schemata Workshop
Capitol Hill Urban Cohousing
1722 12th Ave
Seattle, WA 98122

Take a tour of the next era of urban living, one where the residents have intentionally developed a community of nine homes clustered around an intimate courtyard on Capitol Hill. Drinks and appetizers will be served in the midst of the rooftop farm. Watch the sunset dip behind the Olympic Mountains, and the nearby Seattle skyline. Your hosts for the evening are architect-resident-developers Grace Kim and Mike Mariano.
Wine With a View
July 10, 4:30 – 6:30 PM
Hosted by Creoworks
At Charles Smith Wines Jet City
1136 S Albro Pl
Seattle, WA 98108

Join us at Jet City Winery where we'll gather around the tasting bar for a showcase of wines followed by a tour of the facility focusing on Creoworks features, both reclaimed wood and steel.
Olson Kundig Architects partnered with Foushee and Creoworks on this space, executing nostalgic industrial experiences to create a perfect pairing with Charles Smith Winery. The building's original lumber was used to create an end grain bar telling the story of where they've been and where they're going. From turquoise blue and acrylic wine tasting bars with custom wine racks to hot rolled steel trough sinks and 30+ feet of movable rotating steel walls the space is filled with unique industrial details.
Known for creative furniture and industrial design Creoworks is a studio of architects and artisans with a passion to 'make.' We collaborate with architects, designers, artists, builders, furniture distributors, business owners and individuals to create signature products for inspiring spaces.
Learning the Creative Process of Monotype and Design
July 14, 3:00 – 6:00 PM
Hosted by Anita Lehmann
At her Queen Anne Studio
1625 11th Ave West
Seattle, WA 98119

Led by award winning architectural illustrator Anita Lehmann, this design workshop is about the power of mark making and composition utilizing the monotype press. Join Anita in her studio where you will create powerful paintings and drawings unique to your authentic self and further your understanding of composition and design.

Skilled in architectural design, graphic design, community planning and design illustration; Anita has taught freehand drawing in Rome and in Seattle, and currently offers small group classes in drawing and painting. Anita has designed several series of alphabets, which have been acquired by the Smithsonian Institution.

Design concepts covered: line, mark, shape, texture, value and color; elements related to dynamic mark making with monotype press, techniques and pastel with color. This workshop includes instruction, studio work time and a presentation period followed by light hors d'oeuvres and beverages.

*Please wear attire for getting dirty, bring an apron. Let's get creative!
*Very limited space, sign up soon!


Flatstick Pub South Lake Soiree!
July 19, 6:30 – 8:30 PM
Hosted by Atelier Drome and Rick Workman with WG Clark Construction, formerly of Adatto Construction
At Flatstick Pub SLU
615 Westlake Ave N
Seattle, WA 98109

Seattle's favorite putt-putt pub is opening its largest location yet in South Lake Union with the help of Atelier Drome and Adatto Construction. Located in the Vulcan Block 43 building, which also houses the Allen Institute for Brain Science, the new pub is framed by historic Ford and Pacific McKay building facades. Flatstick is known for it's quirky and fun interiors and the new location won't disappoint with new installations from the renowned local artist 'henry.' In addition to the panoply of local beer and cider that Flatstick is known for this location will be serving some elevated beer-bites.

Co-hosted by Atelier Drome and Rick Workman with WG Clark Construction, formerly of Adatto Construction, this event will include tasty local brews and bites and the project team will be onsite to discuss highlights and inspirations. This event is a hole in one!

Atelier Drome architecture + interior design is a full-service design firm based in Seattle specializing in residential, hospitality, commercial, and workplace environments. They are well known for their work around town with local bars and restuarnats including Flatstick.


Journey to the Center of the Universe!
July 20, 4:00 – 6:00 PM
Hosted by Tableau, Weber Thompson & The Masonry
At Tableau's DATA 1 Building
744 N 34th St
Seattle, WA 98103

Located in the so-called 'Center of the Universe,' DATA 1 is a new commercial office building that's home to Tableau's offices and a host of local retailers. On Friday, July 20th attendees will go behind the scenes with the design team of this new, highly-sustainable office building and enjoy drinks and appetizers at The Masonry following the tour.
A LEED Gold for Core and Shell project, the building features operable windows, castellated beams for air flow and daylight, exterior window shades, an enclosed courtyard, and ambitious water-scrubbing landscaping. Tour-goers will get to see inside Tableau's LEED Gold offices, check out the courtyard, and soak in views from the roof deck. Outside the building, attendees will learn about the bioswales along the east edge of the site that retain and treat rainwater runoff from Troll Avenue and the Aurora Bridge. This on-site treatment cleans water prior to discharge in Lake Union, and has spurred a larger stormwater cleanup effort around the lake.
Event Timeline:
4pm tour of Tableau's DATA 1 office space
5pm Happy Hour at The Masonry – apps and drinks provided
Tour Guides:
Myer Harrell, AIA, LEED AP BD+C, Homes, Principal and Director of Sustainability, Weber Thompson
Rachael Meyer PLA, GRP, LEED AP, Landscape Architecture P­­rincipal, Weber Thompson
Marc Furst, LEED AP, Associate, Weber Thompson
Jacob Young, Citizen Design | Collaborative Companies
Fire Station #32 Tour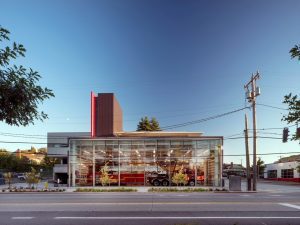 July 24, 7:00 – 8:30 PM
Hosted by Bohlin Cywinski Jackson
At Fire Station #32 in West Seattle
3715 SW Alaska St.
Seattle, WA 98126

A fire station is not just where firefighters work—it is where they live, trade stories, and decompress.

Fire Station 32 embraces its role as a public building in Alaska Junction, an area of the City that is experiencing a high degree of new development. Through the large glass wall, early morning equipment checks are visible to commuters, the fire truck is subtly illuminated in the evening, and children from the daycare across the street are especially excited to watch the trucks and fire fighters in action. Passers-by and local residents can also watch the fire fighters sliding down the two-story brass poles on their way to a fire or aid response.

Join us for a behind-the-scenes look of Fire Station 32 with the architects and the fire fighters. Bohlin Cywinski Jackson will give a short talk about designing the LEED Platinum station before touring the station. And goodie bags will be given out at the end of the tour!


Norton Building Tour
July 31, 5:30 – 7:00 PM
Hosted by LMN, Susan Boyle, BOLA & Coughlin Porter Lundeen
At the Norton Building
801 2nd Ave
Seattle, WA 98101

The 1959 Norton Building was designed by Seattle architects Bindon & Wright in consultation with SOM and is widely recognized as Seattle's first Modern office tower. On this tour you'll get to explore the structure of this classic Mid-Century Modern era gem and take in the wide-open views of the city. This tour will take you into the offices of National AIA Firm Award Winning LMN Architects and Coughlin Porter Lundeen Engineers. At the end of the tour, guests will learn more about the history of the building and enjoy refreshments from our hosts. This tour will be led by Susan Boyle, AIA, Principal of BOLA Architecture + Planning, an expert in historical and mid-century modern architecture and design. Boyle is an active member of the local chapter of DocomomoWeWa (Documentation and Conservation of the Modern Movement), a past board member and president of SAF, and a former member and chair of Seattle's Landmark Preservation Board.
About the Hosts:
Coughlin Porter Lundeen specializes in structural, civil, and seismic engineering throughout the Pacific Northwest. The firm relocated to the Norton Building in 2014, attracted by its elegant, modern profile. You're invited to tour the firm's office on 9, which honors the building's history through exposed concrete and industrial finishes, and present extraordinary views of the waterfront and Pioneer Square.