Photo: SAF. All imagery featured on this site is the sole copyright of the photographer and is used by permission.
2018-2019 Youth Design Workshops
Our 2018-2019 season has ended, please stay tuned for our 2019 – 2020 season.
Designed for youth ages 10-16, these workshops take a step up, with students tackling social, environmental, and engineering challenges. With more time to work and an emphasis on conceptual issues and concepts, these workshops are perfect for older students. Hosted at local architectural offices and supported by SAF staff and volunteer architects, participants learn as they plan, build, and present solutions to imaginative and thought-provoking Design challenges.
Saturdays from 11:00 AM – 3:00 PM
We offer need-based scholarships for all SAF Youth Programs. For details about scholarships email Program Director Kim Owens at
kim@seattlearchitecture.org
or call 206-667-9184.
Thank you to our Diamond Sponsor for supporting Youth & Family Programs:
Classroom Photos by Lan Nguyen
(Past Event) Trusses, Trestles, and Beams: Bridges
October 6, 2018
11:00 – 3:00 PM
Location: SRG Partnership
110 Union St #300,
Seattle, WA 98101

Flex your engineering muscles while learning about the about the wide variety of bridge types, and how to design for challenging conditions while keeping people safe. Will you design a new masterpiece like the Golden Gate, or a twisty nightmare like the old Tacoma Narrows Bridge?


(Past Event) Gateway to the City: Light Rail Stations
November 3, 2018
11:00 – 3:00 PM
Location: VIA Architecture Inc.
1809 7th Ave #800
Seattle, WA 98101

Light rail stations might seem simple at first glance, but these important transit centers are complex projects with a multitude of design challenges, including accessibility features, the simple challenge of moving thousands of people a day, and tailoring themselves to the neighborhoods they serve. See if you can out design Seattle's stations!


(Past Event) Building the Future: Space Architecture
January 5, 2019
11:00 – 3:00 PM
Location: Integrus Architecture
117 S Main St.
Seattle, WA 98104

Architects don't just design buildings for Earth! Learn about current efforts to design both short and long term shelters for other planets, and design your own structure for Mars, the Moon, Venus, or heavenly bodies even more far flung in this otherworldly workshop.


(past event) Playful Everyday Landscapes
February 2, 2019
11:00 – 3:00 PM
Location: Center for Architecture & Design
1010 Western Ave
Seattle, WA 98104

Break out of the jungle gym! Play should happen everywhere, not just the playground, and not just for little kids. Join SAF and local playscape experts, Site Workshop, and explore ways to integrate playful landscapes into our everyday routines.


(Past event) Come Together: Community Housing
March 2, 2019
11:00 – 3:00 PM
Location: Schemata Workshop
1720 12th Avenue
Seattle, WA 98109

So you want to live with friends and family, but you want your privacy too? Is the annual block party with your neighbors just leaving you wanting more? Maybe cohousing is for you! Join us at Schemata Workshop to learn more about the exciting world of cohousing, where design aims to bring neighbors together, not keep us apart.


(Past event) It's Alive!: Biomimetic & Living Buildings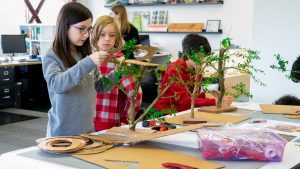 April 6, 2019
11:00 – 3:00 PM
Location: Perkins + Will
1301 Fifth Avenue Suite 2300
Seattle, WA 98101

Solar panels and rainwater harvesting are great, sure, but they are just the beginning of what architects today are doing to create greener buildings. Students will learn about how designers are taking inspiration from nature in creating self-sustaining buildings, passive heating and cooling, and other examples of biomimetic architecture.