2019-2020 Youth Design Workshops
Select Saturdays from 11:00 AM – 3:00 PM
Designed for youth ages 10-16, these workshops take a step up, with students tackling social, environmental, and engineering challenges. With more time to work and an emphasis on conceptual issues and concepts, these workshops are perfect for older students. Hosted at local architectural offices and supported by SAF staff and volunteer architects, participants learn as they plan, build, and present solutions to imaginative and thought-provoking Design challenges.
We offer need-based scholarships for all SAF Youth Programs. For details about scholarships email Program Director Kim Owens at
kim@seattlearchitecture.org
or call 206-667-9184.
Thank you to our Diamond Sponsor for supporting Youth & Family Programs:
Thank you to our Platinum Sponsors for supporting Youth & Family Programs:


Classroom Photos by Lan Nguyen
Put a Lid on It: Link the International District and Pioneer Square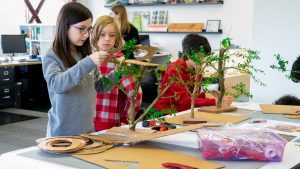 **Note: Event rescheduled due to COVID-19**
September 12, 2020
11:00 – 3:00 PM
Location: TBD


The City of Seattle and WSDOT are considering putting a lid over I-5 in Seattle. Not only would this generate much needed land in downtown it could help with major environmental issues such as noise and air pollution. What would you do with 15 acers, or 8 city blocks, in downtown Seattle?
BUY TICKETS
(Past Event) As-built Environments in Tinkercad
June 13, 2020
11:00 – 3:00 PM
Via Zoom

With the COVID-19 pandemic we are currently unable to resume our Youth Workshops in their usual format. Therefore, we are hosting a virtual workshop! Using Zoom and Tinkercad, we will host a program in which local architects from Schemata Workshop and SAF will lead a tutorial on on TinkerCad and challenge students to recreate a space in their house, before transforming it into their dream space. Participants will share their creations at 1:00pm with the option to continue working after the program has ended.


(Past Event) Take it to the Limit
October 19, 2019
11:00 – 3:00 PM
Location: Integrus Architecture
117 S Main St.
Seattle, WA 98104

How do Architects and Engineers know how to create safe cutting edge structures? They test them! In this workshop we will focus on creating untraditional buildings and testing their structural integrity against natural forces like Wind, Rain, Gravity, and Earthquakes! How will your building fare?


(Past Event) The School of the Future
November 2, 2019
11:00 – 3:00 PM
Location: Bassetti Architects
71 Columbia St, Suite 500
Seattle, WA 98104

What does a school of the future look like…? Will rising sea levels allow us to create floating learning spaces that focus on marine life education? We know the changing climate is going to affect how we interact with the built environment, but what does that look like and how will it change how we learn? Come explore the future of educational design!


(Past Event) Shifting Your Perspective: Human-centered Design
January 18, 2020
11:00 – 3:00 PM
Location: MG2
1101 2nd Ave #100
Seattle, WA 98101

It's easy to get caught up designing beautiful things and forget who we're designing for: humans. Learn how to solve everyday design problems for everyday people – with all the opportunities and challenges that come with them. Students will utilize human-centered design principles to research, ideate and prototype design solutions using real data from real people.

(Past Event) Skyscrapers: Go Big or Go Home
February 1, 2020
11:00 – 3:00 PM
Location: SRG Partnership
110 Union St #300,
Seattle, WA 98101

Skyscrapers are the crown for any city. From Smith Tower to Columbia Tower, Seattle has its own collection of skyscrapers that give it a distinct skyline. What does it take to build tall? The sky is the limit when you are part of a great team! Building big takes big ideas, and you'll work with new friends on small teams to dream up and build the tallest skyscraper SAF has ever seen.