SPECIAL EVENTS
Annual Open House: Block Party!
Tuesday, February 28 from 6:00 – 8:00 pm
at the Center for Architecture and Design


Join us for SAF's biggest event to celebrate and thank our volunteers who help make SAF a great community resource! From 6 – 8pm, meet and reconnect with other SAF volunteers at the Center for Architecture and Design for food, refreshment and fun activities.
Whether you're a seasoned volunteer or interested in learning more about volunteering at SAF, this is a great event to learn more about our programs, meet other volunteers and Shape Seattle!
Our Annual Open House is a great opportunity for current volunteers to connect with each other and for new volunteers to get involved and learn more about volunteering with SAF. We will also award the Annual Bill Strong Award for Volunteer Excellence. Know a volunteer who went above and beyond in 2016?
Fill out our official nomination form
FREE RSVP
Neighborhood Exchange
The Neighborhood Exchange is a new event series presented by the Seattle Architecture Foundation.
The Neighborhood Exchange will highlight the impactful work of community coalitions that are shaping Seattle and connect community advocates with design professionals. This program is ideal for those interested in learning how to plan projects, obtain resources and get projects built in their neighborhoods.
You'll experience the impact of community-based design projects that are making a positive impact in Seattle neighborhoods. Thorugh a walk-and-talk format you will tour unique community spaces and learn strategies for implementing similar projects in your own community. Each event includes a tour led by project leaders, a presentation on the process and outcomes, and small group time to learn more about the resources needed to implement a community-led project.
Neighborhood Exchange events are free and include lunch. Reservations are required.
The Neighborhood Exchange is supported by the Seattle Department of Neighborhoods, Neighborhood Matching Fund and by the following sponsors.
GOLD SPONSORS:
Cone Architecture
MacDonald-Miller Facility Solutions

Neighborhood Exchange: Activating Alleyways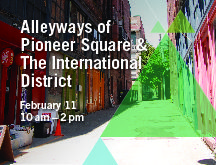 February 11, 2017
Start: 10:00 AM Pioneer Square at Café Umbia
End: 2:00 PM Hing Hay Coworks Space
This event will be hosted in partnership with the SCIDpda and the Pioneer Square Alliance, which have been working together to revitalize the alleyways of the International District and Pioneer Square.
We kick off with a tour that will take participants through alleyways in each neighborhood. As we go, project leaders will share their work to promote sustainable use and long-term care of these valuable community assets. At the end of the tour the group will gather at the Hing Hay Coworks space for lunch and a brief presentation. After the presentation, the speakers will lead small group discussions to dive deeper into how this project was completed. 
Topics explored will include, funding and resources, working with a consultant, street use and permits and space activation/programming. These small group conversations should leave you with a range of tools and ideas to take with you and apply to your own community-based design projects!
Speakers Include:
Cassie Chinn, Wing Luke Museum
Ching Chan
An Huynh, SCIDpda
Dave Rodgers, MIG⎮SVR
Karen Selander, City of Seattle, Dept of Neighborhoods
Liz Stenning, Pioneer Square Alliance
This program is accessible via public transit, closest stop is PSQ Light Rail Station Parking available at the Stadium Place Garage  (Average rate $12.00)
Neighborhood Exchange programs are free and include lunch. Reservations are required.
FREE RSVP
Neighborhood Exchange: Yesler Swamp Trail Expansion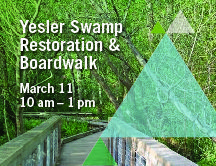 March 11, 2017
10:00 – 2:00 PM
Seattle Botanical Gardens / Douglass Conference Room 
3501 NE 41st Street 
Seattle, WA 98195
Visitors to Yesler Swamp can now access a boardwalk and gravel upland trail beginning at the east parking lot of the Center for Urban Horticulture, winding through the swamp, and looping back to the parking lot.
This Swamp, a wetland with trees, is located at the corner of NE 41st and Surber Drive on the shore of Lake Washington. It sits on the site of the historic outlet of Yesler Creek, skirts a lagoon that connects to Union Bay and once housed Henry Yesler's lumber mill. Yesler Swamp hosts over 100 species of birds and an active beaver lodge.
Friends of Yesler Swamp partnered with University of Washington students, faculty, and staff to restore Yesler Swamp by installing native plants and clearing invasive species like Himalayan blackberry, English ivy, and reed canary grass.
Speakers Include:
Carol Arnold, Friends of Yesler Swamp
Carolyn Foster
Neighborhood Exchange programs are free and include lunch. Reservations are required.
FREE RSVP