Photo: SAF. All imagery featured on this site is the sole copyright of the photographer and is used by permission.
2017 Teen Design Workshops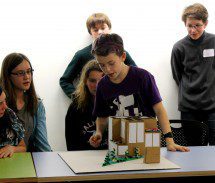 At SAF Teen Workshops, youth (Ages 12-17) are introduced to the connections between design and social issues. Workshops kick-off with a community guest or designer introducing an issue and then youth are challenged to use their creativity to come up with a responsive design. In teams supported by SAF volunteers, students work to plan, build and present a physical or digital study model that represents how their design could promote a better city for all.
The SAF Youth Workshop series has concluded for the 2016-17 school year. Workshops for the 2017-18 school year will be announced in July.

We offer scholarships for all SAF Youth Programs. For details about scholarships email us at info@seattlearchitecture.org or call 206-667-9184.
(Past Event: Check back soon for new events) Locally Sourced! Vernacular Architecture
Feb 18, 2017 11:00AM-3:00PM
SRG Partnerships
110 Union St
Seattle, WA 98101

Vernacular architecture is an architectural style that is designed based on the local availability of construction materials to the geography, as well as to the local needs of the population. Students will learn about architectural design specific to Washington's natural resources and industry, and how it compares and differs to other places, in and outside of the U.S. Students will discuss these issues with practicing designers, and represent their own ideas through sketches, three-dimensional models, and presentations.